Tonya Banks is a main cast member on Little Women: LA.
Biography
Tonya Renee Banks was born on July 7, 1964 in Carson, California.
Before she was on Little Women: LA, Banks was an actress. She has had small roles in television shows and movies for over 30 years. Banks joined the entertainment industry in 1984 as an actress and stuntwoman. She has appeared in "Death to Smoochy" and"Bad Santa". When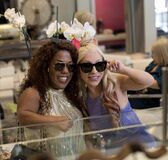 she appeared in the film, "The Internship Games", she made history as being the first little person, female lead in a movie. She has also appeared in a 1994 episode of "Martin", and in a 1999 episode of "Ally McBeal".
Banks has an activewear line called, "Lil Boss Body Activewear", which provides activewear for women of average and small stature.
Tonya also has a wine line called "L'Tonya Renee Red Blend Wine".
Tonya made a cameo on the series premiere of Little Women: Atlanta.
Behind the scenes
Banks wants to be the first black little person woman to win an Academy Award. She overcame difficult odds to become the only black little person in Hollywood.

Banks is best friends with fellow Little Women: LA cast member Terra Jolé. The've been friends for over 13 years.
She is friends with Little Women: Atlanta cast member Shirlene "Ms.Juicy" Pearson.
Tonya had a boyfriend named Kerwin Johnson. They dated on and off for 30 years. Kerwin is the father of Tonya's daughter Angelique Johnson, who was born in 1992. In season 6 of Little Women: LA, Banks and Kerwin got engaged, but in the Season 7 premiere the engagement was called off, and the couple broke up.
In 2020, Banks released an autobiography book titled, "It's Not What You're Called, It's What You Answer To".
Trivia
Banks has been engaged to Kerwin Johnson twice, but things were broken off both times.