Jurassic World: Dominion Dominates Fandom Wikis - The Loop
Play Sound
Monie Cashette was a main cast member on Little Women: Atlanta from seasons 1 to 4. She temporarily left the show during Season 5 but made a few guest appearances during the season. She returned to the show for Season 6.
Biography
Tiffany "Monie" Cashette was born on October 26, 1982 in Houston, Texas. The type of dwarfism that Monie has is NPR 2, which is a rare type of dwarfism.
Prior to being on Little Women: Atlanta, Monie was a medical claims examiner.
Besides being on Little Women: Atlanta, Cashette became the voice actor for the character "Monie the Ladybug", on the children's show, "Nubbin & Friends". She also joined The Atlanta Social Club.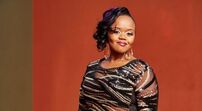 Monie plans on launching her own shoe line called MonieRose. She also has a t-shirt line. Monie is working on her voice-over career, acting as a brand ambassador for Luster Skin Care, and plans on having a production company called "Little Woman, Big Business" .
Behind the Scenes
When Monie was 18, her mother, Felicia Andrea Wardsworth passed away from Scleroderma. She has supported non-profit organizations that are dedicated to the fight against the disease.
Monie has a son named Derrick "D2" Becton Jr. (15) from her previous marriage to Derrick Becton Sr. D2 is average-sized. In 2017, Cashette married Morlin Ragland. Her wedding and wedding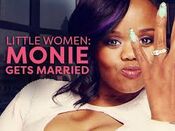 preparations were chronicled in four special episodes of Little Women: Atlanta.
She was already friends with castmates Tanya and Sam before being on the show.
Monie left Little Women: Atlanta during Season 5 to move back to Houston, Texas to be with her son, since she lost a custody battle to move her son to Atlanta with her. She returned to the show during Season 6.
In an Instagram video posted in early June 2019, Cashette revealed that she and Morlin will be getting a divorce. The two separated. During filming for Season 6 of Little Women: Atlanta, the two tried to work their relationship out. On April 20, 2021, Monie posted a boomerang video of some divorce paperwork with her and Morlin's name on it, which means that she and Morlin got or were in the process of getting a divorce.
Trivia
Monie met her ex-husband Morlin on a dating website called, "plentyoffish.com".
Cashette is the tallest cast member on Little Women: Atlanta, and the second-tallest person to star in a Little Women show altogether (coming in second to Little Women: NY's Jessica Capri Sloan, who is one inch taller than her).
She is the second-oldest cast member on Little Women: Atlanta.