Shirlene "Ms.Juicy" King Pearson is a main cast member on Little Women: Atlanta. She had a recurring role on the show in Season 1, and became a cast member on Season 2.
Biography
Shirlene "Ms.Juicy" King Pearson was born on January 5, 1972 in Corsicana, Texas. They type of dwarfism that she has is Pituitary Dwarfism.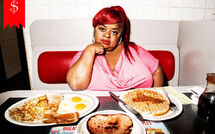 Before she was on Little Women: Atlanta, Ms. Juicy was a member of The Rickey Smiley Morning Show, an American syndicated radio show. She was on the show since 2008. She left the show in 2019, because she was not offered a contract renewal for the year 2020. Juicy has also been on the American reality TV show, "Rickey Smiley For Real". In Summer 2017, Pearson began a new business venture-- a partnership as a talent agent.
Pearson appeared on the inside cover of a 2017 issue of Sheen Magazine--making it the first magazine cover she has been on.
On July 28, 2018, Juicy starred in a stageplay called, "In-Laws From Hell", at Rialto Center For The Arts in Atlanta, Georgia.
In 2019, Juicy teamed up with PD Shades and released an exclusice eyewear collection called "Eminence Eyewear by Juicy", which consists of stylish sunglasses/fashion glasses for men and women.
In 2020, she appeared on an episode of "Nick Cannon: Wild N Out".
She has also appeared on the TNT drama "Claws".
In September 2020, Ms.Juicy became a co-host of ReecRadio, a digital broadcast.
Behind the Scenes
Ms.Juicy went to Corsicana High School, Navarro Jr. College, and DeVry Intsitute of Technology--where she received a BA in Computer Information Systems.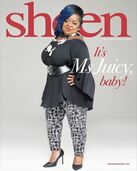 She was married to an average-sized man for 15 years. She is now divorced.
Pearson is friends with Little Women: LA star Tonya Banks, and Little Women: Dallas star Caylea Woodbury.
Trivia
At one point in her life, Pearson was a city bus driver. She obtained her bus driver's license because she was told that she wouldn't be able to handle driving a bus because she is a little person.
Pearson is the oldest cast member on Little Women: Atlanta, and the second oldest person to be a cast member on a Little Women show overall (coming in second to Tonya Banks of Little Women: LA, who is almost 7 1/2 years older than her).