"Season 3 Reunion - Part 2" is the 22nd episode of Season 3 of Little Women: Atlanta.
Synopsis
Plot
The episode begins with footage of the altercation between Abira and Minnie. Minnie and Abira yell insults at each other. Terra tells them to sit down and talk. Minnie throws a pillow in Abira's direction. It accidentally hits Tanya.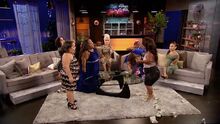 Abira tells Minnie to pick up her rent money. Everybody takes five and The crew straightens up the stage. Minnie calls Abira a deep voiced- stanky-breath b****. Minnie goes backstage and talks to her mom, Tammie. Tammie tells her not to let Abira bother her and she's nothing but a man. She reminds Minnie that she's too classy for that. Minnie looks as if she's going to cry.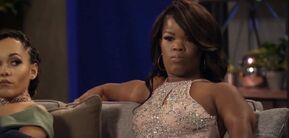 Tammie says she's going to get her. One of the producers tells Tammie that he doesn't want her running up on Abira. Tammie tells the producer that when she sees Abira she's going to punch her. She's going to tear the whole studio up and it's going to be "Hurricane Tammie", and she's dead serious. Abira leaves the stage. She goes back stage. Next, all that is heard is somebody screaming, and noise. Minnie is heard yelling, "Momma! Momma!" The camera tries to make its way to where the action is. It turns out that Tammie threw some water on somebody. She meant to throw it at Abira but she accidentally threw it at Monie. She tells her mother to stop. Tammie says she's cool. Abira says that she will beat the s*** out of Minnie and Tammie. She says she can't even go to the bathroom, and they are the ghettoest b*****s ever. Tammie is asked to leave and so is Abira. Minnie tells one of the producers to tell Monie that her mother wasn't trying to throw water on her. Abira and Tammie are put in a van and driven away from the studio.
After everybody comes down the cast gets back on the couch. Terra says she felt like she needed counseling after that incident. Amanda's boyfriend Jordan joins the cast on stage. Terra asks how their relationship is doing. They show some footage regarding Amanda and Jordan's relationship. Amanda said she felt stupid expecting Jordan to propose to her, because in the past, Jordan expressed how he was going to marry her someday. Jordan said he wasn't going to propose to her that night. He said he wants to get a house before they get engaged. Amanda and Jordan begin to get emotional. Amanda says he's emotional because Jordan is her first love, and they've been through so much with each other. She also has trust issues, and she and Jordan need to work on that. Terra asks where the trust issues came from. Amanda says that in the past she and Jordan broke up with each other for two weeks. Terra asks what made Amanda upset and want to break up with him. Jordan said that he was in the club all the time and Amanda didn't like that. Tara asked Jordan if he was promiscuous. Jordan said no, and he doesn't want to get into detail. Minnie says when little people are in relationships they have trust issues. Andrea says that Amanda over thinks things a lot and she's always putting herself down. Juicy tells Amanda that she has to have more confidence in herself. Tanya tells Amanda to also have confidence in the way that her man looks at her, and make sure that he respects her. Juicy tells Amanda to let she and Jordan's problems be a steppingstone, because in a marriage there will be lots of problems that they'll have to get over.
Next, some footage regarding Andrea's relationship with Chris is shown. Chris joins everyone on stage. Andrea says watching all those clips made her feel emotional, because of all the stuff she and Chris have been through. When they argue, the crap hits the fan. He gets up and leaves and is gone for a week, and then he comes back. But it doesn't happen all the time. She says people act like they know what's going on between she and Chris, but they don't. And he is there for Aubrey. Terra asks Andrea if he's involved in their sons life. Andrea says he is currently not because of the situation with her parents, and he doesn't want to be around her parents. Terra asks Chris why did he go back to Texas. Chris said he went back to take a break, not to move back, and he and Andrea didn't break up. At that time, neither of them had control over their relationship. Andrea says that a lot was going on, so he had to leave. Terra asks Chris if he is afraid of being a father of two. Chris says that he wasn't there for Andre, and Aubrey is a little person so he need someone to give him credit for trying, and it's hard not having a lot of supporters. Everybody thinks that he got up and left. He's trying, and that's all he can say. Terra asks Andrea why she went back to Chris. Andrea said she's been wanting to work things out with him, and she doesn't see anything wrong with working things out with her baby daddy, she doesn't care what anybody says, she's going to be with him. Terra askes Andrea why is she so annoyed. Andrea says because everybody's coming at Chris. Amanda tells Andrea that nobody is coming at Chris. Andrea says she knows he has a bad attitude, and she knows she has one herself. She says that nobody sees what she sees behind closed doors with Chris. He takes care of their daughter Aubrey and the only thing that's stopping him is her parents. Terra asked Chris if there's anything he'd like to do to repair his relationship with the twins' parents. Amanda tells Chris that he doesn't understand their dad's point of view. She says that their dad is hurt because Andre has been through so much, and they almost lost him and Chris wasn't around. And that's why their dad is the way he is. Terra asks Chris if he feels like he's going to attempt to try to get back in his son's life. Chris says that he wants to get custody of his son. Tanya says regardless of how his son's parents feel about him, his son still wants to see his father., He needs to be a father to his kids. Chris said he tried to give that a shot but it didn't go well. Amanda says that shouldn't stop him. Tanya tells Chris to not let his son feel any type of way. Amanda said sometimes she feels like her sister is putting Chris in front of her. Andrea admits that she puts Chris before her sister sometimes. He's her baby daddy and he's always going to be.
Monie's baby daddy Derrick Sr. joins everyone on stage. Monie gets annoyed. Some footage regarding Monie trying to convince her baby daddy to let her son live in Atlanta with her is shown. Monie starts crying. She says she really misses her son and she really wants him in Atlanta with her. Terra asks Derrick why he feels like D2 shouldn't live with Monie. Derrick says he feels like Monie wouldn't have time for him. Monie tells Derek that he doesn't know what she has time for and he can't say that. Derrick says that D2 is 11 years old, and he can teach him how to be a man. Monie mentions how Tanya is coparenting with Devon, and both Nico and Devon are coparenting Tanya's son and teaching him to be a man. Derrick says that situation doesn't have anything to do with him. Monie says she's using that example to show that they are not the only ones going through what they're going through. Derrick says that money works more around the clock unlike him he can be there. Terra asks money how long D2 has been with Derrick. Monie says about a year. Monie said even after she got her stuff together, things aren't going her way. My niece is getting her stuff together so her son can live with her has always been her agenda. Then Derrick tells money that it's all about her. Monie says she's not about to say that it's their agenda because they are not together. Then Monie and Derrick start going back and forth. Derrick says that he did not say that he'd let their son live with her. Monie says yes he did, and that's why she got her stuff together. Tanya butts in and says that she has been through the same coparenting issues with Devon. She says she knows that her daughter doesn't want to be without either of her parents. Terra asks Derrick what he thinks is the best situation for their son. Derrick says they should let their son make his own decision. Terra pointed out how D2 said that he wanted to live with his mother in Atlanta, and he asked Derrick if he'd say yes. Derrick says that it would crush him, but he can't hold his child back from something that he wants to do. Monie says that Derrick does slick talking. Derrick says that Monie wants everything to be about her all the time. Terra says that they're going to have to agree to disagree. Then, Derrick leaves the stage.
They show footage of Tanya finding out whether her kids are a little people or not. Tanya starts crying while watching the footage. Tanya says she's accepted it since it happened. Terra asked Tonya why it took her so long to get her kids tested. Tanya says with her son, she didn't think he was a little person when he was born. Tanya said she doesn't want anybody using him or bullying him. And she will f*** somebody up if they mess with her child because he's little. Everything is harder, and as a mom you don't want your kids to suffer or hurt and there's nothing that you can do about it. She feel like she supposed to protect them. Terra asks Andrea what are her thoughts about Tanya's disappointment about finding out that she has two children that are little. Andrea says when her son André was 26 weeks old, she found out that he was a little person. She cried and cried, and she didn't want him to be little. She didn't want him to go through what she and her sister went through. Terra asks the ladies if they think it's easier now being a little person then when they were children. Sam says she feels like it's a little easier. 

Next, some footage from the Bahamas trip that the ladies went on is shown. Minnie says she didn't sleep or do anything sexual with that guy that she met at the twins' gig. Amanda mentions how some people were complaining on the trip (keyword Tanya). Tanya said she had fun on the trip and was happy to support the twins. But she missed her kids, and she didn't want her pregnancy to stop her from doing things . She tries to push herself to be a good friend and reminds herself that she has people that still want her to support them.  Andrea says being away from both of her kids was very hard for her. A clip of Andrea reacting to the news that her and her sister will be traveling some more for business is shown, and a clip of when Amanda found out that Andrea went back to Dallas is shown. Amanda and Andrea get emotional after seeing those clips.  When she walked in to Andrea's in the apartment, she realized that her sister really did leave. She says they have come along way with each other and it's not like her to just get up and leave. Terra asked Andrea why did she get up and leave without saying goodbye. Andrea says she doesn't know.  Terra asked Amanda if she thinks that Andrea picked Chris over her career, her sister, and everything. Amanda says yes. And it's the same thing. Andrea says she can live her own life and she's not gonna listen to her or anyone else. Amanda says she's not telling her how to live her life. The to go back-and-forth. Terra asks Amanda if she thinks that Chris will leave Andrea again. Amanda says Chris is unpredictable. He has to prove to Andrea that he's going to be there for her, and that's the only way that she's so defensive of her sister. She pointed out how Andrea's son thinks that his grandfather is his dad, and it shouldn't be like that. Chris should've been there from day one, and if he could lay down and create a child, he could've been a man and stepped up. Andrea says that she's giving the Tiny twins a break. Terra asks if that's temporary until Chris leaves again. Andrea says she doesn't think that Chris is going to leave, but then again she doesn't know because she's not Chris, but they will see.   

Terra begins to talk about Monie and her relationship with Morlin. She says that Monie proposed to Moreland and he said yes. Not only is she getting married , but she's getting her own four part series that chronicles the preparation for her wedding. A sneak peek of the special is shown.

Terra asks each of the ladies a personal question. She asks Tanya if she's looking forward to the final stage of her pregnancy, and if she has picked a name for her unborn daughter. Tanya says definitely, and her name will be Jaid Tahirih Rose. Terra asks Sam what's next for her. Sam says she would like to get her make up off the ground and start her own makeup line. Terra asks Juicy how her bobble heads are selling. Juicy says for some people who don't want a bobble head of her, they are flying off of the shelves. Terra asks Minnie what's going on with her. Minnie says this season she has been in the process of changing and she's bettering herself healthwise. Terra asks the twins where they are. Amanda says she doesn't know where they are since Andrea is in Dallas and she's in Atlanta. They were supposed to be working on their brand. Andrea says at the moment she's focusing on her relationship with Chris, and they're doing pretty good. Terra asks Andrea if she is staying with Chris. Andrea says of course. Before Terra wraps the show up, she congratulates the ladies on season four of Little Women: Atlanta.