Samantha Ortiz is a main cast member on Little Women: Atlanta. She first appeared on the show on a Season 2 Episode, and joined the cast in Season 3.
Biography
Samantha Marie Ortiz
was born on January 18, 1995. The type of dwarfism that Sam has is Chondrodystrophy.

Before Sam was on Little Women: Atlanta, she was a makeup artist. She moved to Atlanta to expand her clientele.
On April 22, 2018, Sam opened an online store called, "Sam's Glam Shop", which sells glitter palates and test tubes, faux mink lashes, and other natural/vegan beauty products.
Behind the Scenes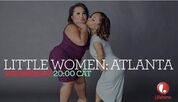 Ortiz was already friends with castmates Monie Cashette and Tanya Scott before being on the show.
In 2016, Sam started dating a man named Michael. The two first met each other while Sam was living in New Jersey. Their relationship is long-distance. Their relationship wasn't revealed until the Season 4 finale of Little Women: Atlanta.
Trivia
Sam is the only little person in her immediate family, but she has an aunt with Achondroplasia, and three more relatives who are little people.