Nico Cobb appeared in a few episodes of Season 3 and Season 4 of Little Women: Atlanta.
Background
Nico Cobb is Little Women: Atlanta cast member Tanya Scott's ex-boyfriend, and the father of her son Jaidan, and daughter Tahirih. He first appeared on "Little Women: Atlanta" on the Season 3 episode titled, "Just a Friend". He visits Tanya in Atlanta for a few days. Later on, he is introduced to the rest of the ladies at a restaurant, where he is interrogated by almost all of the ladies...
Biography
Nicholas Cobb was born on September 23, 1990 in Richmond, Virginia. He is a model, songwriter, and a singer, under the name, "Just Nico". He started performing on a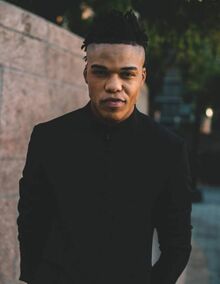 professional level in 2011. He released an album titled, "Lost: The Short Story". His song titled "Pretend", was featured on Little Women: Atlanta.
He has performed on major television networks such as MTV, HBO, VH1, and NBC in two background vocalist groups called, "Exousia" and "East Coast Inspirational Singers".
Nico dated Tanya Scott. They have known each other since they were teenagers, and have two children together-- a son named Jaidan, and a daughter named Tahirih. Jaidan has Pseudoachondroplasia dwarfism, like Tanya. It is currently unknown if Tahirih also has dwarfism.