Jason Perez
is a main cast member on
Little Women: NY
. He is the first and only man to ever star as a main cast member on Little Women: NY and on a Little Women show up to date.
Biography
Jason grew up in New York. After he graduated from high school, he earned a culinary arts degree and then worked as a cook. He eventually became a singing server at the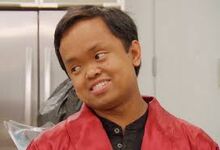 restaurant that he cooked at. Perez has also performed at the Radio City Music Hall Christmas Spectacular.
At one point, Perez worked for the Actor's Equity Union.
Jason is enrolled at Queens College, where he studies Political Science.
He made an appearance in a Season 5 episode of "Little Women: LA".
Behind the Scenes
Jason has a boyfriend named D.J., whom he has been dating since 2015. They have a YouTube channel called "D+Jay".