"In It to Twin It" is the 13th episode of Season 3 of Little Women: Atlanta, and the 38th episode of the series overall.
Synopsis
Plot
The episode begins with Amanda and Andrea shown at Andrea's apartment complex with Aubrey. Then there's a knock on the door, and the person who's at the door is Minnie. Minnie comes inside and greets the twins and Aubrey. Amanda asks Minnie what Juicy said to her when she pulled her aside at the party.  Minnie said that Juicy asked her why was she at the party. Minnie said that she told her that if Juicy was a real woman she would've invited her to the party, so she decided to go to the party. In the commentary, Minnie says that she admits that she wasn't invited to Juicy's party but Juicy is always bullying her and she was not about to back down. Minnie said that she had a good time before Juicy came, then Amanda asked Minnie how that made her feel when juicy put her on blast. Minnie said she want to flip the table on Juicy. Minnie says they all get picked on and embarrassed because they're little people, but she has never gotten embarrassed like that. Then Andrea mentions how it looked like money was having a good time at the party. In the commentary Amanda says she was a little surprised that Monie was flirting with another guy at Juicy's party. Then many shows the twins the pictures of Monie flirting with the man at the party. Minnie says that she needs to sit down and talk to money about what she did at the party before someone else brings those pictures up and shows Morlin.
Monie and Juicy go to a restaurant. Juicy says that her party was crazy and even though an uninvited guest showed up and caused a scene, she still had a good time. Monie asked Juicy why she did her count down  at the party. Juicy says that Minnie wasn't personally invited to her party, and she asks Monie why would someone go somewhere if they don't like that person. Monie says that's kind of disrespectful. Juicy says that putting a chicken wing on top of her bobble head is disrespectful. Money says that she had no idea that all of that was going on. Juicy mentions how Monie was chilling with a guy named Greg at the party. Money says that it's not like that and she is team Morlin. Juicy says that Monie needs to watch what she does in public. She says that Minnie took a picture of Monie at the party. Monie says that Greg is a good friend of Morlin and but and he's just a friend. She hates that people were taking pictures of her especially Minnie, and she needs to talk to her, because she and Morlin are good and she doesn't need that getting back to him because he'll get the wrong idea. Juicy says that the Internet is crazy and she doesn't know how people think , and what if those pictures got back to Morlin. She says that maybe maybe Minnie is mad because Juicy and Monie are close, and Monie doesn't know what people are up to. Monie says while Minnie is in her business trying to break up her marriage Minnie needs to check herself because they don't need any little people walking around like they're homewreckers.

Andrea is shown at her house. She gets a knock on her door and it is Sam--she has returned to Atlanta. Sam says that she's staying with Andrea and not Tanya because she hasn't spoken to Tanya since their fight. Sam says she's bound to cross Tanya eventually but she'll cross that bridge when she gets there. Andrea tells Sam what happened with the bubblehead incident at the casino party. Then she tells her that Minnie showed up to Miss Juicy's birthday party uninvited and how she got escorted out. In the commentary, Sam says that the fighting never seems to stop with the girls. She hopes coming back to Atlanta was a good idea and she's not sure if she's ready to be thrown back into that crazy mess again.  Andrea girls Sam that Nico came back to Atlanta but he left the next day. Sam says that she knew that Nico was going to bail out on Tanya, and she let Tanya do what she had to do. Sam says she's worried about her best friend but she's hurt about how Tanya treated her. Sam said she didn't want to stay with Tanya because she knew Nico would bail out and she did not want to deal with things going downhill with him and Tanya, and she wouldn't be able to handle it. She mentions how Tanya is going to have another child by Nico and nine times out of ten will not be there to help take care of the child.
Tanya is shown at her house. Her friend Abira comes to visit her. Tanya says that Abira is in town for a couple of gigs. She and Abira used to dance together before she came a mother. Tanya says that Abira has four kids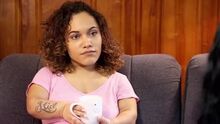 and she's still dancing. Abira asks Tanya how she's doing. Tanya says that she's focusing on her business since her kids are with Devon, and getting her company in order especially with the baby coming. Tanya asks Abira what's going on with her. Abira says that she's been working, and she'll be in Atlanta for a few weeks. Tanya says that Abira can meet the ladies since she's in town. Tanya says that when Abira meets the girls she'll start off being reserved, but she has strong opinions and knows how to turn up. Tanya mentions how Sam was living with her at one point. Abira says she was going to ask Tanya about Sam. In the commentary, Tanya says that Abira and Sam are also friends,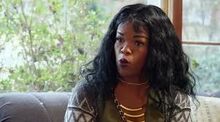 and she's not sure that Abira knows what went down between her and Sam. Tanya tells Abira that she and Sam had an argument and Sam left. Abira asks Tanya if she knows that Sam is in town. Tanya says no. Abira asks Tanya if she thinks that Sam has any hard feelings towards her. Tanya says she doesn't know, and that it's messed up how Sam didn't tell her she was in town. 
The twins go to a restaurant to meet with their managers to talk about a possible gig. Andrea says that they really don't want to be known as the Twerking twins anymore, and that will be their first hosting gig picked out by their managers. The twins manager says that they have three or four appearance opportunities for the twins. They tell them about the different clubs that they could perform at. The twins choose a club called The Havana Club. 
Minnie and Monie meet up for drinks. In the commentary, Monie says she knows that Minnie has pictures of her and Greg in her phone, and she needs to do some "damage control". Minnie tells Monie that there were people taking pictures at the party, and she took a couple of pictures herself to show Monie how she was around Greg at the party. Monie says that Minnie was being like a paparazzi. Minnie says that she wasn't, and she wanted to show Monie looked like at the party once she sobered up. Monie says that Minnie could've just told her, and if Minnie is her girl, why was she taking pictures and it looked like she was shady and had other intentions, and wasn't expecting Minnie to take pictures like other people at the party were doing. Minnie says she was just looking out for Monie. Monie says that she wants to see Minnie delete the pictures if there's no shade. Minnie deletes the pictures.  In the commentary Minnie says that it's clear that Monie doesn't trust her, and it's obvious that Juicy has been whispering in her ear. Minnie says that Monie was giving her crap about taking pictures. Monie asks Minnie why she took pictures of her and Greg. Monie said that if she was concerned about Minnie she wouldn't be concerned about grabbing her phone . She says that Minnie was acting shady and it doesn't look cool.
Tanya and Juicy go to a spa. Juicy and Tanya get foot massages. Then Tanya brings up how Juicy was rough with Minnie at her birthday party. Juicy says that Minnie still wanted to act a fool, so she told Minnie to stay outside. But it is what it is. Tanya asks Juicy if she knows that Sam is back in town. Juicy says no. Juicy says that Sam doesn't know that Nico is gone. Tanya says that she still hasn't talked to Sam. Juicy says that Tonya picked Niko over Sam so. Tanya says that it's not like she picked Nico over her, but she was giving Nico a second chance. It's not like she kicked Sam out, because Sam chose to leave. She points out how Sam is staying with someone, and she made plans to come back and didn't say anything to her.
Abira visits Sam at Andrea's apartment. Abira introduces herself to Andrea. Abira mentions how she saw the twins on social media twerking, and she thought that they were cool. Andrea asks Abira if she wants to go to their gig. Abira says that she'd love to. She asks Andrea if she and Amanda will be twerking. Andrea says that they'll be hosting, and maybe dancing a little, and her and her sis are trying to go beyond twerking. Abira asks what's going on between Tanya and Sam. Sam says that she hasn't really talked to Tanya since she left. In the comm., Sam says since Nico is gone, she's not sure where she and Tanya stand. Abira says that she and Sam should go visit Tanya and see if she's okay as friends. Sam says that she felt like Tanya was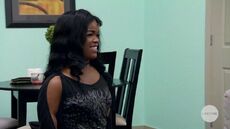 choosing Nico over her. Abira says that she can understand having baby daddy drama because she has 4 kids of her own. Andrea says Sam is like her sister because she's Telling Tanya what is up, and she is right about it. Andrea says that it's hard because you love that person so much and you do so much for them and they just leave you.  Abira says that's why they all need to stick together. Sam said she didn't want to give Tanya a hard time but she's a hardheaded person and if you come for her she'll come for you. 
Abira and Sam go to Tanyas house. Sam says Abira convinced her to have a talk with Tanya.  Sam asks Tanya where Nico is. Tonya says Nico moved out and he was complaining about not having time for himself and he's not ready for a new baby but he's still adjusting to being a dad and he doesn't want to be in a relationship with her. In the commentary, Sam says that it doesn't feel good that she was right. And she thinks that Tanya deserves way better Sam tells Tanya that she doesn't want to tell her that she said she told her so, and Tonya had her mind is somewhere else and it ended up being what they didn't want. Sam says that she hopes that Tonya doesn't put herself in a situation like that again. Tanya says she is feeling really dumb, and Nico wanted her to give him a chance and she felt that for the kids sake she should've given him another chance.  Abira says that she and Sam will be there for Tanya. Sam says that she doesn't know what it's like to have a kid, so she can't act like she knows how Tanya feels. Sam tells Tanya that she's sorry that she acted the way she did before she left. Tanya says it's okay. 
Monie and Morlin are shown at their apartment. Morlin says that he's sure that a lot of stuff went down at the party. He asks Monie if she didn't do anything she wasn't supposed to at the party. In the commentary, Money says she's beginning to wonder if somebody already mentioned something about Greg to Morlin. Monie says that she saw Greg at the party. She says that they had some shots and Greg asked her about Morlin. Monie says that she heard that people were taking pictures of them and making it seem like more than it was. Morlin asks what was money doing to make people take pictures of her. Monie said it's because she was having a conversation with Greg. Morlin asks Monie if she thinks that she was being a little too affectionate. Monie says she feels like she was being herself. Morlin says if it smells like a rat it's a rat. Monie says because of Morlin's job she feels like they go through a lot.  Monie says she doesn't have a history of lying, and the best thing that she can do is control her communication with Morlin, because the problems that they had in the past had to do with communication, and she sitting there trying to communicate with him and he's making her feel like she's not being 100 with him and she's bringing it to his attention.  Then Monie starts to get emotional. Morlin tells Monie to be mindful of what she was doing looked like. Monie says she is mindful of what it looks like it that's why she brought it to his attention. Then Morlin says that's all they need to talk about if that's the case. Monie says that with Morlin's job they go through things and he's always gone and wishes that he could find something local so that he can be home. Morlin says that he's working on that as they speak. And he has some other options, and everything is going to work out. 
The twins are shown practicing for their gig. Then Jordan comes into the room. He asks the twins if they're excited about their first gig. They say that they're nervous. Jordan tells the twins that they've been in front of a crowd before. Amanda says that's a big step for them. Amanda says what if the people start laughing. Jordan asks the twins who is perfect, and he says that everybody messes up. Jordan tell the twins that they're going to do good and not to get nervous.
The twins and Jordan arrive to the venue of the gig. Then the ladies, Morlin and Abira arrive to the venue. Amanda asks where Tanya is. Sam says she didn't call her, and maybe Tanya wasn't feeling well. Amanda introduces herself to Abira and asks asks her what she does for a living. Abira says that she shakes her ass for money, and says she's not going to sugarcoat it and she said that it makes good money at it pays her bills, and she asks the twins if they do that too. Andrea said that they did that but not anymore. Then Abira that she might bring the Twerk out of the twins. Then the twins and the ladies enter the club venue in the VIP
section near all of the clubgoers. The twins begin to introduce themselves, and they ask the crowd if they're ready to party... and the crowd isn't really feeling them. Then they started dancing a little and Abira throws shade at them. Then Abira decides to get up and start dancing and stealing the twins light and the crowd likes her. Then the ladies leave the club  and go into the parking lot. Amanda says that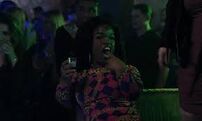 Abira was making faces at them and she asks If she had a problem with them. Abira says that since they're the "twerking twins"
they should've been twerking it and it's working it. Amanda said she doesn't have to twerk . Abira says that the people were falling asleep. Amanda says that she doesn't have to step up to Abira's level. Then a beer is says when she got up and started shaking her behind the crowd was going wild. Then the twins and Abira started going back-and-forth and Sam tries to keep a distance between them. According to Minnie, Abira called the twins out for having little fingers... but Abira is a little person too. Then people in the parking lot and start looking at them arguing.  Abira tells Amanda that no one came to see her talk and they came to see her shake her behind.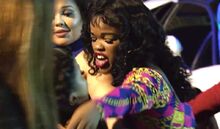 In the commentary, Monie says that people are watching all of that go down and it's not a good look for the twins. They're trying to class up their hosting gigs and it does not get any less classy than what they were doing. Then Juicy separates Abira from the group and the twins start following them and yelling at them still. And when Juicy is separating Abira from the twins, she yells insults towards them. Abira says all the twins do is talk and she asks Amanda where Jordan is. Then Amanda asks Abira where her baby daddy is and that she has two baby daddies. Then two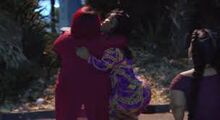 strangers hold the twins back and pull them away from Abira. Then Juicy and Abira are around 40 feet away from the twins and the rest of the ladies . Then Abira flicks the twins off, makes some more insults towards the them, and then the two sides go their separate ways.