Devon Neal is Tanya Scott's ex-boyfriend, and the father to her second child, Luna. He made his first appearance on Little Women: Atlanta in Season 3.
Background
Devon is the father to Tanya Scott's first daughter, Luna, and her boyfriend. Devon and Tanya probably first started dating in 2013 (at least), but broke up at one point. The two rekindled their relationship in 2017, but broke up again.
Before he was on the show, he lived in Maryland, and Tanya would send both of her kids to stay with him for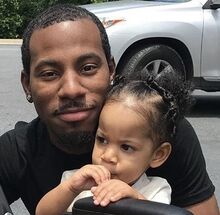 weeks at a time since they had a loose custody agreement.
Later on in Tanya's third pregnancy, Devon agreed to move to Atlanta so that Tanya's kids wouldn't have to travel back and forth from Atlanta to Maryland. Devon also moved in with Tanya to help take care of her kids.
Behind the Scenes
In mid 2017, Devon went back to school to study Music Engineering.
Community content is available under
CC-BY-SA
unless otherwise noted.