We're Getting Mutants in the MCU - The Loop
Play Sound
D'Quan Cage is Caylea Woodbury's ex-fiance, and mother of her two sons. He first appeared on Little Women: Dallas in Season 2.
Background

D'Quan guest-starred on the Season 4 episode of Little Women: Atlanta titled, "Juicy's Got Talent", alongside his then-fiance, Caylea.
Biography
D'Quan Cage was born on June 18, 1996 in Inglewood, California. He is a songwriter, rapper/singer, and dancer. He started dancing and singing at age 5. He sings with his mother Tori and most of their songs have gone viral. In 2012, Cage made it to the 3rd round of the X Factor. He and his ex-fiance Caylea recorded a song together called, "Give Her A Tip". Cage has also released some music by himself under the name "ILostMyTeenSpirit"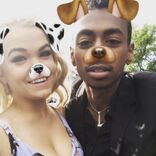 Cage started dating Caylea Woodbury on March 4, 2017. In June 2017, he and Caylea got engaged, but the engagement was called off in October 2020.
Cage and Woodbury welcomed their first child together (a boy, named Lexington Miguel Cage) on September 12, 2018. Lexington is average-sized.
Their second child (a boy, named Hendrix Paul Cage) was born on February 3, 2020. Hendrix has Achondroplasia dwarfism just like Caylea.
Cage is expecting his third child with his wife Jayce Ivannah in Summer 2022.
Caylea's second pregnancy was documented on Season 2 of the Facebook Watch series titled, "9 Months With Courteney Cox". Cage appeared on the show alongside Caylea.
Caylea and D'Quan have also appeared on an episode of the television show "Paternity Court". The episode first aired on February 2, 2020.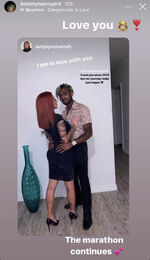 In October 2020, Caylea hinted on her Instagram that she and D'Quan were broken up. She posted to her Instagram story somewhat ranting about how her body/ facial features were "all real" and how she isn't made of plastic— which could've indicated that D'Quan either cheated on her with another woman or moved on. She also thanked her fans for checking up on her and also said that she wasn't ready to talk about what was going on. She told the public to stop sending her things pertaining to what D'Quan was posting since she doesn't care, and there's no need to send him death threats. The two also unfollowed each other on Instagram. Cage posted a picture of himself with his new girlfriend—a model named Jace Ivannah to his Instagram story, which confirmed that the two were dating, and Woodbury is single. Ivannah claims to have loved Cage since 2013.
D'Quan and Jayce got engaged in Winter 2021. They got married in March 2021. The two will welcome their first child together in Summer 2022. This will be Jayce's second child, and D'Quan's third.