D'Quan Cage is Caylea Woodbury's fiance. He first appeared on Little Women: Dallas in Season 2.
Background

D'Quan guest-starred on the Season 4 episode of Little Women: Atlanta titled, "Juicy's Got Talent", alongside his fiance, Caylea.
Biography
D'Quan Cage was born on June 18, 1996 in Inglewood, California. He is a songwriter, rapper/singer, and dancer. He started dancing and singing at age 5. He sings with his mother Tori and most of their songs have gone viral. In 2012, Cage made it to the 3rd round of the X Factor. He and his fiance Caylea recorded a song together called, "Give Her A Tip". Cage has also released some music by himself under the name "ILostMyTeenSpirit"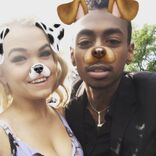 Cage started dating Caylea Woodbury on March 4, 2017. In June 2017, he and Caylea got engaged.
Cage and Woodbury welcomed their first child together (a boy, named Lexington Miguel Cage) on September 12, 2018. Lexington is average-sized.
Their second child (a boy, whose initials are H.P.C) was born on February 3, 2020.
Caylea and D'Quan have also appeared on an episode of the television show "Paternity Court".
Community content is available under
CC-BY-SA
unless otherwise noted.