Christy McGinity Gibel
is a main cast member on
Little Women: LA
.
Biography
Christy McGinity Gibel was born on August 19, 1977 in Burbank, California.
Before she was on Little Women: LA, Gibel worked as a stand-in for child actors in commercials. She also had minor roles in films, "Death to Smoochy", and "Austin Powers in Goldmember". Gibel was also a financial advisor.
Christy made an appearance in an episode of Little Women: NY.
Gibel has also appeared on an episode of "The People's Court" alongside her daughter Autumn.
Behind the Scenes
Christy married Todd Gibel on May 16, 2014. She has a daughter named Autumn (17), and a son named Trenton from her first marriage. Both Autumn and Trenton are little people.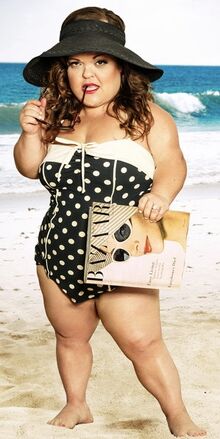 At one point in her life, Gibel suffered from alcohol addiction. She has been sober since 2010.
Gibel is friends with Little Women: NY cast member Lila Call.
In November 2016, Gibel underwent spinal surgery. The doctor nicked her carotid artery, which almost killed her. She also suffered a stroke a few months after the surgery. The type of spinal surgery that she underwent had never been performed on a little person before. She survived the stroke, but required months of recovery.
In 2018, Christy underwent gastric sleeve surgery, to assist her weight loss.