Christy McGinity is a main cast member on Little Women: LA.
Biography
Christy Lynn McGinity was born on August 19, 1977 in Burbank, California.
Before she was on Little Women: LA, McGinity worked as a stand-in for child actors in commercials. She also had minor roles in films, "Death to Smoochy", and "Austin Powers in Goldmember". Christy was also a financial advisor.
McGinity also has experience in multiple other fields: Real Estate, Fashion Design, Recovery Coaching, Medical Assisting, Writing, Theater, Cooking, Baking, and officiating weddings.
Christy made an appearance in an episode of Little Women: NY, and has also appeared on an episode of "The People's Court" alongside her daughter Autumn.
She will release a book in 2021.
Behind the Scenes
When Christy was 19, she married her boyfriend because she accidentally got pregnant. The two divorced.
Christy married Todd Gibel on May 16, 2014. As of March 2020, the two are separated or divorced. She has a daughter named Autumn (21) and a son named Trenton from her first marriage. Both Autumn and Trenton are little people. McGinity's current boyfriend Gonzalo Carazo is the father of her third child, Violet, who tragically passed away at two weeks old on March 20, 2020.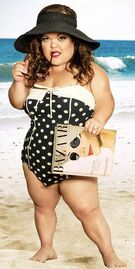 At one point in her life, McGinity suffered from alcohol addiction. It affected her friendships, and even caused her children to be taken away from her at one point. She has been sober since 2010.
Gibel is friends with Little Women: NY cast member Lila Call.
In November 2016, McGinity underwent spinal surgery. The doctor nicked her carotid artery, which almost killed her. She also suffered a stroke a few months after the surgery. The type of spinal surgery that she underwent had never been performed on a little person before. She survived the stroke, but required months of recovery.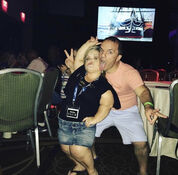 In 2018, Christy underwent gastric sleeve surgery, to assist her weight loss.
In 2019, McGinity started an online affair with a man named Gonzalo "Gonzo" Carazo, due to her husband Todd being "absent to her in various ways", and other issues, which pushed her to find affection elsewhere. Apparently, Christy and Carazo had known each other for almost a decade, were close friends, and would see each other at Little People of America conventions. The two made things official on May 25, 2019. In September 2019, Christy revealed that she and Gonzalo were expecting their first child together. Their daughter, Violet Eva Carazo was born on March 6, 2020, seven weeks premature. At her birth, she measured 15 inches and weighed 3lbs., 15 oz. But on March 20, 2020, Violet tragically passed away at two weeks old.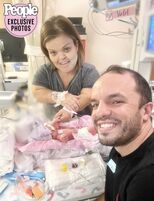 At some point in 2020, Christy moved to New York to be with her boyfriend Gonzo.
Christy and Gonzo got engaged in April 2021.
Trivia
Christy drives a Subaru Outback.