Chris Fernandez is the on and off boyfriend of Little Women: Atlanta cast member Andrea Salinas. He is also the father of her three children, André, Aubrey, and Anaya.
Background
Biography
Chris has been dating Andrea Salinas on and off for over 7 years. The two got engaged in 2018, but the engagement was called off after a few months. They have three children together-- André (8), Aubrey (4), and Anaya (3). All three of their children have Achondroplasia Dwarfism.

When their son André was born he was very sick, and almost died. He was diagnosed with Lung Disease. Thankfully, he pulled through his illness. He lives in Texas with his maternal grandparents Janie and Oscar so that he can stay close to his doctors. They adopted him, but Andrea does plan on having André move in with her, Chris, and her daughters after he gets his health together.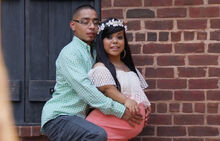 Fernandez has at least one other child by another woman.