Brittney Guzman was a main cast member on Season 3 of Little Women: LA.
Biography
Brittney Guzman was born on March 3, 1993 in Los Angeles, California. Before she was on Little Women: LA, Guzman was a professional dancer. She has performed on tour with Miley Cyrus as a dancer, alongside other Little Women stars Terra Jolé and Jordanna James. Guzman has also performed on stage with other artists such as Ray J, and Kid Rock. She made an appearance on a Season 8 episode of "Ru Paul's Drag Race".
Brittney has also appeared on a season 2 episode of Little Women: Dallas.
Behind the Scenes
Guzman is friends with Little Women: Dallas cast member Caylea Woodbury.
Brittney revealed that she would not be returning to Little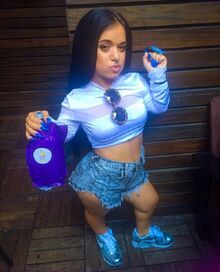 Women: LA for season 4 because she wants people to get the best representation of her, and felt like the show was no longer a fit.
In 2016, Guzman lost her aunt (Kimberly Tripp) to chronic alcohol abuse. Tripp was a performer in Las Vegas as "Mini Kim Kardashian".
Brittney released an apparel line called the "Freakabritt Collection" which is available for purchase online on shopfreakabritt.bigcartel.com/products.
Trivia
When she was a child, Brittney was the flower girl in Little Women: LA cast member Christy McGinity's first wedding.
She danced in a music video for a Spanish-speaking rapper.
Guzman was featured in the music video for the song titled "Ice Cream" by rapper Ambjaay.
Community content is available under
CC-BY-SA
unless otherwise noted.