"
Bobbleheads Will Roll
" is the eleventh episode of Season 3 of
Little Women: Atlanta
, and the thirty-sixth episode of the series overall.
Synopsis
Amanda talks to Jordan about the future of their relationship. Monie throws a casino party for Morlin, where Juicy reveals a new venture of hers to the ladies--and Minnie throws plenty of shade towards it.
Plot
Minnie and the twins go shopping for some clothes for Andrea's daughter Aubrey's photoshoot. Minnie tells the twins that she wants her mother to move out of her place. She wants to focus on dating, and that isn't easy with her mother having her around all of the time. But she will help her mother find a new place to live. Andrea asks Amanda how her anniversary celebration with Jordan went. Andrea tells her that Jordan told her that he had a surprise for her, and the surprise was a saxophone player. She was expecting him to propose to her, and she got disappointed, and ended up feeling dumb. Minnie reassures Amanda and tells her that she just had high hopes. Andrea and Minnie suggest that Amanda talks to Jordan about how she feels about the situation.
Juicy goes to visit her publicist, and Tanya comes along. Juicy's publicist tells Juicy some of the things that need to be done for Juicy's brand such as updating her website, and having bobbleheads of her made. Then, Ms.Juicy and her publicist videochat with a bobblehead representative, to talk about creating Juicy's bobblehead. Juicy tells the rep that she wants her bobblehead to have her signature red hair, and to look like her, and is curious if she can make the bobblehead talk. The rep tells Juicy that she will have an opportunity to record some phrases for her bobblehead.
Monie and Morlin go to a restaurant together. Morlin tells Monie that he's glad that they worked things out, and Monie needs to be more responsible with things, such as a ring. Monie feels bad for making that mistake and she tells Morlin that she's sorry. Morlin then tells Monie that the wedding is still off because they're working things out again, and he doesn't need the stress of that at the moment. Monie tells Morlin that she doesn't agree with the wedding still being off, and she feels like there can still be a wedding. Morlin explains to Monie that if more people took the time out to work on themselves like he's doing with Monie, there wouldn't be as many people going through divorces. Monie understands where Morlin is coming from, and he's right about them needing to work together so that they'll get back to where they were before. She really wants to do something special for him, and try to get things back on track.
Minnie has a talk with her mother, Tammie. She tells Tammie that she wants her to move out. Minnie says that she needs her space, and wants independence and freedom. Tammie says that Minnie can have all of that when she moves out. She has a lot going on at the moment and needs time to get her thoughts together to figure out when her next move will be. Minnie asks Tammie if two weeks will be enough for her. Tammie says that actually, six months will be enough for her. Tammie tells Minnie that she feels like Minnie wants her out. Minnie says she'll never learn to live on her own if she doesn't actually do it. She's glad that Tammie understands her, but she feels bad for kicking her out. Minnie then tells Tammie that she'll be inviting the ladies over for a housewarming party. Tammie playfully accuses Minnie of throwing a party to celebrate Tammie moving out of her house.
Monie goes to Tanya's house. Tanya says she's been trying to keep herself busy since Nico left. In the commentary, Tanya says she and her daugher Luna's father, Devon, have a loose custody agreement. They each have the kids for a few weeks at a time. Monie tells Tanya that she and Morlin are staritng over with their relationship, and she's still trying to wrap her mind around the situation with her baby daddy. And they're both going through some things together, and she doesn't want Tanya to feel like she's going through things alone. Then, Monie asks Tanya where she is mentally with adjusting to the new changes in her life. Tanya says she never told anyone that when she first found out that she was pregnant, she did not want to keep the baby. And she never thought that she herself would think like that. But she knew that both she and Nico were not ready for another child. She says Nico begged her to give him another chance, and she reminded Nico that he doesn't want the family life. And she was right. He left because it was too much pressure. She says she's done it without him twice, so it's not going to make a difference.
The twins take Andrea's daughter Aubrey to her first photoshoot. Aubrey takes some pictures in different backgrounds and outfits. Then, Andrea asks Amanda if she has talked to Jordan about their relationship. Amanda says no. Andrea says Amanda should speak her mind. Amanda says that Jordan would never hurt her. And she knows Jordan is waiting for her to bring up what happened on their Anniversary. But she's not good at expressing her feelings.
Tanya is shown at her house with her son. Tanya's baby daddy Devon shows up to Tanya's house. Tanya says Devon is picking up Jaidan so her kids can be together. Tanya asks how her daughter is doing. Then she tells Devon that she appreciates him coming by with everything that's happening with Nico leaving. Devon asks Tanya how Nico felt leaving his son Jaidan. Tanya says that Nico just left the next day. Devon asks Tanya how Nico felt when she told him she was leaving Jaidan with him. Tanya says Nico wasn't excited about it. Tanya said Nico doesn't understand the parenting thing he just can't think about himself anymore, and the kids always come first. She's really glad that Devon understands it and that's the sign of a good father. Tanya thanks Devon again for stopping by and picking up Jaidan. Devon said he'll do anything for Tanya's children and he's always going to be there for them. Tanya says she's thankful she figured out a good co-parenting situation with Devon and she can count on him to be a good father towards Luna and Jaidan. The hardest part of sharing custody with the kids is having to say bye to them every time they go even though it's for a few weeks. It's hard for her to be away from them. Then Devon leaves Tanya's house with her son Jaidan.
Minnie invites the ladies over to her house to celebrate her living independently. She gives them a house tour, and then they sit in Minnie's room and have some drinks. Monie asks Minnie what the device that's by Minnie's bed is. Minnie says that it's her CPAP machine. She shows the ladies how she puts on her CPAP mask, and tells them that the machine gets her oxygen levels up and she has less seizure activity. Minnie's mother Tammie walks into the room. She tells Minnie that she looks like she's having a good time. Minnie tells Tammie that she threw the party for her as well, and she knows that she's still mad that she told her to move out. All of the ladis go downstairs. One of the twins asks Tammie how she felt when Minnie asked her to move out.  Tammie says she felt like she was getting put out again, but she understands that Minnie needs her space. She also worries about Minnie living alone. Then, Tammie notices that Juicy and Tanya never showed up to the get-together. Monie calls Juicy and asks her where she is. Juicy says that she's at home. Monie asks her why. Juicy says that she has no reason to be at the get-together. Monie tells Minnie that she's at home, Tammie asks Monie if she is the reason why Juicy isn't there.
Juicy goes to Monie's house. Monie is going to throw a casino party for Morlin, so Juicy bought some decorations. Monie says that she is going to rent some slot machines and have a card dealer work at the party. She tells Juicy that all of the ladies will be at the party. Juicy asks Monie if Tammie will be in attendance. Monie says no, and she says that Minnie is probably upset with Juicy for not showing up to the party. Juicy says she was uncomfortable with the idea of being around Minnie's mother, and at the same time she doesn't have time for drama, so that's why she didn't go to the party. In the commentary, Juicy says that she's sure that Minnie is mad at her, but who does she think she is to hang around someone who threw chicken wings on her. She has not forgotten or forgiven. Monie says they're all going to go there and have a good time. Juicy says that she plans to reveal a surprise at the casino party. In the commentary, Juicy says that the casino party is the perfect place to reveal her prototype bobblehead.
Amanda talks to Jordan about what happened at their anniversary dinner. She says that she got upset because she thought that he was going to propose to her. She begins to get emotional. Jordan says he thought that the saxophone player was romantic, but when Amanda started crying he had no idea what was going on. He says that it's not their time to get married, and they'll need to work on themselves and in a couple of years they'll have kids. Amanda says she wants to get married before they have kids, and not end up like her sister or Tanya. Jordan says that he does want to marry Amanda one day, and tells her she can always come to him and talk. Amanda says that she's glad she and Jordan talked about their relationship and she shouldn't have waited so long to tell him how she feels.
On the night of the casino party, Monie leaves a fancy outfit out for Morlin along with a note that tells him to put the outfit on and go downstairs. All of the ladies and Jordan arrive to the party. Morlin enters the party and everyone surprises him. Then everyone starts to play the casino games. Some of the ladies play Russian Roulette at the card table. Minnie accidentally spills some of her drink on the table. Juicy asks Minnie if she's drunk already, and says that she is delaying the game. Minnie disagrees with Juicy, and Juicy tells Minnie that she can call it whatever she wants. In the commentary, Minnie says that Juicy has a lot of nerve for coming at her when she's the one who didn't even show up to her party. Minnie tells Juicy that she supports her in everything she does, and Juicy didn't show up to the one get-together that she invited her to. Juicy asks Minnie what would it look like for her to go to her mother's farewell party. Minnie says that the party was also about her. Juicy says that Minnie told her that it was her mother's farewell party, so she chose not to go. Monie interrupts the two and tells them to just have a good time, but Juicy and Minnie continue to bicker with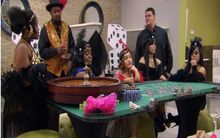 each other. Minnie mentions how Juicy invited her and the ladies out to dinner to meet her mother and sister, and she was willing to go and take a chance. Juicy says that her mother and sister didn't do anything to Minnie. Juicy says that she didn't want to go to the party that Minnie threw for her mom, and says that she's a grown woman and makes her own decisions. Minnie says that was a coward move on Juicy's part. Juicy says that a coward move is a person getting their mother to fight their battles for them. Monie tells Minnie to get back into the card game and to stop arguing. In the commentary, Minnie says she's not buying Juicy's excuses, and if she was a real friend, she would've been at the party no matter what.
A little later, Juicy decides to show the ladies her prototype bobblehead. The bobblehead has a button, and when pressed, one of Juicy's catchphrases (that are said in her voice) are played. Some of the catchphrases are, "Everybody loves the juice!", "That ain't funny!", "It's Ms.Juicy Baby!", "I'm the queen of Atlanta boo!', and,"Respect me, I'll respect you.". Each of the ladies has a turn looking at the bobblehead, and they pass it around the table so everyone can have a look. When the bobblehead is handed to Minnie, she acts shady and uninterested in it. She passes it to the next person. Minnie says that the bobblehead doesn't even look like Juicy. She then asks to have the bobblehead back. Tanya asks Minnie why she's acting like she's hating on the bobblehead. Minnie says that she's not hating. Juicy says she didn't bring the bobblehead so that anyone could hate on it. Andrea suggests that maybe Minnie is still upset because Juicy didn't show up to her get-together, and that's why she's acting the way she is, but she doesn't think that Minnie is hating. Minnie says, "If I was hating, I would've did this...". Minnie gets up , goes to the refreshment table, gets a chicken wing, and places it on top of Juicy's bobblehead. "Now it looks like you", says Minnie to Juicy.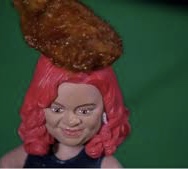 In the commentary, Monie says she knows that Minnie is still mad at Juicy for not attending her party, but the night of the casino party was not the night of Minnie's party, and it was supposed to be a party for Morlin. Monie tells everybody that she appreciates them for coming to the party, but it's coming to a close. In the commentary, Monie says that she knows how the ladies can get, and she doesn't want a fight to break out in front of Morlin, and make him regret coming home. "Tanya had better be glad that she's pregnant because she would've gotten a chicken wing on top of her head.", says Minnie to one of the Salinas twins. In the commentary, Tanya says she could hear Minnie talking mess. Juicy and Tanya leave the room, then Tanya begins to talk about Minnie. She tells Juicy that she can't stand it when people are haters, and it's annoying to her. One of the twins tells Minnie that Tanya is talking mess about her. Minnie tells the twins that she is dead serious, and she'll beat Tanya's behind. Monie tells Minnie that it's not the time or place. Minnie says she doesn't care. Monie tells Minnie whatever she and Tanya do, they need do it off of the property, and the people at her apartment complex are strict. Minnie runs into the hallway where Tanya and Juicy are. The twins and Monie try to stop her. In the commentary, Monie says that she is not trying to get kicked out of her apartment. Minnie, Monie, and the twins are at one end of the hallway, and Tanya and Juicy are at the other end of the hallway near the door. MInnie asks Tanya if there's anything she needs to say to her, and she she should say it to her face. Tanya asks Minnie, "What is there to say?". Minnie says that Tanya and Juicy were whispering to each other. Tanya points out how Minnie was whispering to the twins. Minnie says that she heard Tanya, and tells her to
sit down because she's pregnant. Tanya says that she doesn't have to sit down anywhere. Minnie tells Tanya that her baby saved her life. Tanya tells Minnie that Minnie saved her own life. Minnie tells Tanya that she needs to find out who the father of her child is first. Tanya says that Minnie is just mad because she doesn't have a baby daddy. Minnie tells Tanya that she would rather not have a baby daddy than to be sleeping with man after man after man. Tanya says she's slept with two men. Minnie tells Tanya that she needs to get tested. Tanya says that she's nice and fresh. Tanya tells Minnie to have a nice night, and calls her a childish h*e. Minnie tells Tanya to kiss her behind, and walks away.
Community content is available under
CC-BY-SA
unless otherwise noted.