Aubrey is the daughter of Little Women: Atlanta cast member Andrea Salinas. She first appeared on the show in Season 2.
Biography
Aubrey was born on July 1, 2016. Her mother is Andrea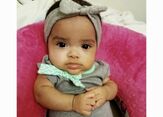 Salinas, and her father is Chris Fernandez. She is the younger sister of Andrea Salinas' son André, and the older sister of Anaya. 
Like her mother, brother, and sister, Aubrey has Achondroplasia Dwarfism.
Minnie Ross was her godmother. Ross unfortunately passed away on April 27, 2020.
During season 6 of Little Women: Atlanta, her mother Andrea opted to not have she and her siblings appear on the show anymore, due to hurtful comments they received from strangers on the internet regarding their sizes. Andrea is doing it to protect them.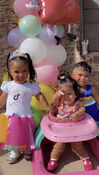 Trivia
Aubrey is bilingual (speaking English and Spanish) thanks to her grandparents.