Ashley "Minnie" Ross is a main cast member on Little Women: Atlanta.
Biography
Ashley "Minnie" Ross was born on October 21, 1984 in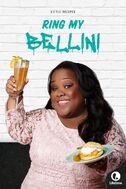 Chattanooga, Tennessee. Before Ross was on Little Women: Atlanta, she was a hairstylist.
Minnie was a guest on The Rickey Smiley Morning Show, a syndicated radio show that is co-hosted by her fellow Little Women: Atlanta cast member Shirlene "Ms.Juicy" King Pearson.
Behind the Scenes
Minnie attended Brainerd High School and Chattanooga State Community College.
Ross is the godmother of Andrea Salinas' daughter, Aubrey.
Minnie was a frequent guest on an Atlanta podcast called, "85 South".
In Summer 2017, Minnie went to an urgent care center because she was not feeling well, and having common cold symptoms. She was then rushed to the ER, and was diagnosed with Congestive Heart Failure. Her condition is genetic--and has nothing to do with her dwarfism. She is making lifestyle changes to reverse the heart failure.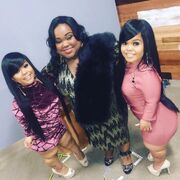 Trivia