Angelique Johnson is the daughter of Little Women: LA cast member Tonya Banks.
Biography
Angelique Johnson
was born in 1992. Her mother is Tonya Banks, and her father is
Kerwin Johnson
. Unlike her mother, Angelique is average-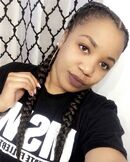 sized. In May 2017, Angelique received her Masters degree from Cal State University Fullerton.