Anaya is the daughter of Little Women: Atlanta cast member Andrea Salinas.
Biography
Anaya Jane was born on December 21, 2017. Her mother is Andrea Salinas and her father is Chris Fernandez. She has an older brother named André (5 years old), and a sister named Aubrey (2 years old).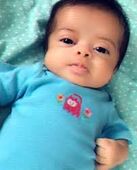 Like her mother and siblings, Anaya has Achondroplasia Dwarfism.
Her aunt is Amanda Salinas. She has another aunt and an uncle.