Amanda Salinas Castillo
is a main cast member on
Little Women: Atlanta
.
Biography
Amanda Salinas Castillo was born on April 18, 1993 in Texas. She has a younger identical twin sister named Andrea who was born on the same day, two minutes after her. Both Amanda and her sister have Achondroplasia dwarfism. Before she and her sister were on Little Women: Atlanta, they were club dancers, and performed together as the "Tiny Twinz". They were almost like legends within the little person performer community.
They moved to Atlanta for more opportunities to perform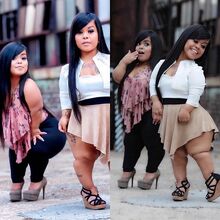 at clubs.
In Season 3 of Little Women: Atlanta, Amanda and her sister decided to quit club dancing, and do things such as club promoting and hosting.
In 2016, Amanda and her sister were guests on The Rickey Smiley Morning Show, a syndicated radio show that is co-hosted by their fellow Little Women: Atlanta cast member Shirlene "Ms.Juicy" King Pearson.
Amanda has appeared on the 'Couple's Retreat' episodes of Little Women: LA, alongside her boyfriend (now husband) Jordan Castillo.
Amanda and her sister Andrea are set to appear on the TV One reality show called, "Rickey Smiley For Real".
Behind the Scenes
Amanda is married to Jordan Castillo. They started dating on December 14, 2014. In Summer 2017, the couple got engaged. The two tied the knot on August 25, 2018.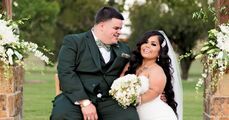 Salinas has a nephew named André (6), and nieces named Aubrey (3), and Anaya (2). André, Aubrey, and Anaya are the children of Amanda's twin sister, Andrea. She also
has at least one other niece, who is the offspring of either her other sister or brother. Her other sister and brother are both average-sized.
On May 24, 2019, Amanda and her sister Andrea released a song titled "Project X" with Bri Barlup and Emily Fernandez (A.K.A Left Cheek & Right Cheek). The music video for the song was released on YouTube on June 8, 2019, and over the course of 17 days, the video received 1.1 million views.
Trivia
Amanda and her husband have three dogs: a French Bulldog named Bella (who's birthday is July 11th), a French Bulldog named D'bo, and another dog named Asia.
Community content is available under
CC-BY-SA
unless otherwise noted.