Amanda Salinas Castillo is a main cast member on Little Women: Atlanta.
Biography
Amanda Salinas Castillo was born on April 18, 1993 in Texas. She has a younger identical twin sister named Andrea who was born on the same day, two minutes after her. Both Amanda and her sister have Achondroplasia dwarfism. Before she and her sister were on Little Women: Atlanta, they were club dancers, and performed together as the "Tiny Twinz". They were almost like legends within the little person performer community. They moved to Atlanta for more opportunities to perform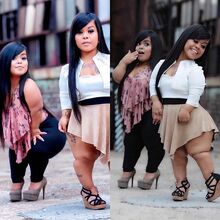 at clubs.
In Season 3 of Little Women: Atlanta, Amanda and her sister decided to quit club dancing, and do things such as club promoting and hosting.
In 2016, Amanda and her sister were guests on The Rickey Smiley Morning Show, a syndicated radio show which was once co-hosted their fellow Little Women: Atlanta cast member Shirlene "Ms.Juicy" King Pearson.
Amanda has appeared on the 'Couple's Retreat' episodes of Little Women: LA, alongside her boyfriend (now husband) Jordan Castillo.
Amanda and her sister Andrea appeared on the TV One reality show called, "Rickey Smiley For Real".
During Season 6 of Little Women: Atlanta, Amanda worked on pursuing a singing career.
Behind the Scenes
Amanda is married to Jordan Castillo. They started dating on December 14, 2014. In Summer 2017, the couple got engaged. The two tied the knot on August 25, 2018.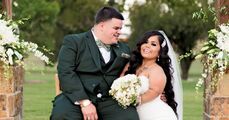 Salinas has a nephew named André (8), and nieces named Aubrey (5), and Anaya (3). André, Aubrey, and Anaya are the children of Amanda's twin sister, Andrea.
She also has a niece named Isla, who is the offspring of her brother, Oscar Salinas Jr. She also has an older sister. Her other sister and brother Oscar are both average-sized.
On May 24, 2019, Amanda and her sister Andrea released a song titled "Project X" with Bri Barlup and Emily Fernandez (A.K.A Left Cheek & Right Cheek). The music video for the song was released on YouTube on June 8, 2019, and over the course of 17 days, the video received 1.1 million views.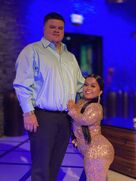 Amanda and her sister Andrea had a very close relationship with their fellow cast member Ashley "Minnie" Ross since 2015. The two were devastated by Ross' passing in April 2020. They were the only two Little
Women: Atlanta cast members that were able to attend Ross' funeral. The service was otherwise only open to Minnie's relatives due to strict social distancing orders during the Coronavirus outbreak. The general public was able to watch a live stream of the funeral.
Amanda started an eyelash line by the name of "Mandy Lashes", in Summer 2020. Her lash line launched on November 9, 2021.
Trivia
Amanda and her husband have two dogs: a French Bulldog named Bella (who's birthday is July 11th), a French Bulldog named D'bo, and once owned another dog named Asia.
She and her sister have matching tattoos of their last name on their calves.

Salinas and her twin sister wear a size 1 in in children's shoes.

She has the second highest Instagram following out of all Little Women: Atlanta or Little Women franchise cast members of over 1 million followers as of February 20, 2021. Her sister Andrea has the highest--over 1 million followers as of February 16, 2021.
Castillo has Hyperthyroidism, which affects her weight and ability to have kids.
A few ways to tell Amanda apart from her twin sister is by her chest tattoos, the shape of her face, her slightly thicker frame, and the small gap in her teeth.
Amanda is the is the second Little Women: Atlanta or Little Women franchise cast member to reach 1 million followers on Instagram.
Mrs.Castillo drives a Cadillac Escalade.
Salinas and her sister learned to drive when they were 22 years old.