Amanda Loy was a main cast member on Little Women: Dallas.
Biography
Amanda Kate Loy was born on December 18, 1988. The type of dwarfism that Amanda has is Hypochondroplasia. The only other little person in Amanda's family was her mother. Before she was on Little Women: Dallas, Amanda was a figure competitior and a personal trainer. Loy moved to Dallas to be close to her best friend Asta, and Ty (Asta's husband).
In Season 2, Loy decided to pursue her career in stunt doubling and acting. She had a small role as a secretary on a documentary series called, "Scandal Made Me Famous".
Behind the Scenes
Loy is best friends with castmate Asta Young.
The thing that drove Amanda to become a bodybuilder was her DUI in 2013. She also did not want to go down the same destructive path that her mother did. Amanda's mother passed away in 2015 from liver and kidney failure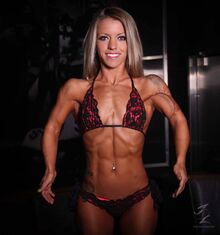 due to alcoholism. Amanda says that she enjoys the healthy lifestyle of bodybuilding.
In season 1 of Little Women: Dallas, Amanda rekindled her relationship with her ex boyfriend Zac for a short time. In Season 2, she dated a woman that she met at an acting class named Cassidy for a short time. Then she started dating a man named Chase--who the group was pretty familiar with since he used to mess around with (not date) Caylea. Amanda lied to the ladies about not messing around with Chase, and admits that she slept with him as revenge after Caylea smacked her in the face. At the end of Season 2, Chase and Amanda packed up their things in Chase's van to move to California together.