We're Getting Mutants in the MCU - The Loop
Play Sound
Abira Greene is a main cast member on Little Women: Atlanta. She had a recurring role on the show during Seasons 3,4, and 5. She became a main cast member in Season 6.
Background
Abira made her first appearance on Little Women: Atlanta on the Season 3 Episode titled, "In It to Twin It".

Abira is in Atlanta for a few weeks since she will be performing at a couple of gigs there. She goes to Tanya's house to pay her a visit. Tanya and Abira used to dance together and are friends with each other. The two catch up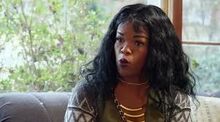 with each other. Tanya tells Abira that she can meet the ladies since she's in town.
Later, Abira visits Sam at Andrea's apartment (where Sam is staying temporarily). Abira introduces herself to Andrea. She says that she has seen Andrea and her sister dance on social media. Andrea asks Abira if she wants to go the her and her sister's first hosting gig. Abira says that she would love to go.
On the night of the twins' first hosting gig, the ladies and Abira show up to the venue. Abira gets to meet the rest of the ladies. Amanda introduces herself to Abira. She then asks her what she does for a living. Abira says that she shakes her behind for money, and she asks the twins if they do the same. Andrea says that they used to do so, but not anymore. Abira says that she might bring the "twerk" out of the twins that night at the gig. When it's time for the party to start, Amanda and Andrea get on the microphones, introduce themselves, and ask the crowd if they're ready to party. Unfortunately, the crowd isn't really feeling the twins' vibe. Abira makes facial expressions of disapproval. Then,she decides to get up and dance--and steals the twins' light.
After the gig is over, the ladies go into the parking lot. Amanda confronts Abira and tells her that she was making faces at her and her sister and asks If she had a problem with them. Abira says that since they're the "twerking twins" they should've been "working it and twerking it. Amanda said she doesn't have to twerk . Abira says that the crowd was falling asleep. Amanda says that she doesn't have to step up to Abira's level. Then Abira says when she got up and started shaking her behind the crowd was going wild. Then the twins and Abira started going back-and-forth and Sam tries to keep a distance between them. According to Minnie, Abira called the twins out for having little fingers... but Abira it is a little person too. Then people in the parking lot and start looking at them arguing. Abira tells Amanda that no one came to see her talk--crowd came to see her shake her behind. Then Miss Juicy separates Abira from the group and the twins start following them and yelling at them still. Abira says all the twins do is talk and she asks Amanda where her boyfriend Jordan is. Then Amanda asks Abira where her baby daddy is and that she has two baby daddies. Then two strangers hold the twins back and pull them away from Abira. The twins yell insults at Abira, including the b-word. Juicy and Abira are at least 40 feet away from the twins and the rest of the ladies. Then Abira flicks the twins off, makes some more insults towards them, and then the two sides go their separate ways.
In the next episode titled, "Not So Little Surprises", Abira makes another appearance. She, Sam and Juicy go shopping. Juicy invited Abira as an excuse to convince her to apologize to the twins before she leaves town. Abira asks Juicy why did the twins act the way they did. Juicy says that Abira could've intimidated the twins a little bit because it was their first time being in front of a crowd and they were nervous because it was their first gig. Juicy says that the twins don't want anybody stepping on their territory, and they thought that was stealing their shine. Abira says she's used to dancing in front of the crowds. In the commentary, Sam says she wishes Abira would take responsibility for her part in the fight with the twins. Abira says she was just dancing. In the commentary, Juicy says Abira is playing dumb and she knows that she loves the attention. Abira says that she wants to be friends with the twins and she's not there to compete with anyone but they need to understand that she's proud of who she is. Sam says that the twins are sweet girls but they just need an opportunity to show her that they're sweet. Juicy says that when Abira has a talk with the twins, she shouldn't tell them that she's being the bigger person because they will think that she's coming for them.
The twins go to a restaurant to meet up with Sam and Abira talk things out. In the commentary, Andrea says that they don't want to see Abira again. Amanda says that when Abira started talking smack that set her off and she didn't mean to get in her face. And she's not going to apologize...Abira is. 
Sam and Abira arrive. They all sit at the table with an awkward silence for minute. Then Abira says that the other night they had a misunderstanding and she didn't want them to feel like that she was stepping on their shoes or trying to upstage them, and she was trying to break the ice and have a good time and when they got outside things got a little turnt. Amanda says that she was trying not to twerk at the gig because her manager was there and her manager wants her and her sister to do better things for their brand. Abira says she understands, and apologizes to the twins and says that she would never want to hurt their feelings. Amanda apologizes to Abira and says she was mad at that moment. Amanda says she's glad they worked things out.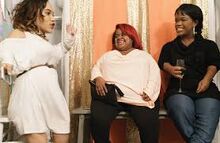 Later on in the episode, Abira attends Tanya's gender-reveal party, and doesn't cause any drama.
Abira Greene makes her final appearances in Season 3 in the episodes, "Season 3 Reunion: Part 1", and "Season 3 Reunion: Part 2".
In "Season 3 Reunion - Part 1", Abira joins the cast on stage after the flashback of the verbal altercation between her and the twins is shown. Reunion hostess Terra Jolé asks Abira if she was disappointed in the twins hosting that evening. Abira says she was disappointed about how the twins went about hosting. She says if they got the crowd's attention a little bit more it would've gone better for them. Amanda tells Abira that it was their first gig and she didn't know how to talk in front of a crowd. Abira says if she doesn't know how to talk in front of a crowd she shouldn't be hosting. Terra asks Abira why she was heckling the twins. Abira says she wasn't necessarily heckling them, but she was in her own mood and wasn't getting the other girls involved in making faces etc. 
Amanda tells Abira that her sister was nice enough to invite her to their gig and they didn't even know who she was. She says on the clip she saw that Abira said she couldn't understand what she and her sister were saying, and she does have speech problems. Abira says Amanda was in her face, and she asks what's wrong with expressing her opinion. Andrea doesn't understand why Abira brought up how the twins have small fingers when all little people have small fingers. Abira says she didn't say she didn't have small fingers, she just said it because she thought it would be something funny to say. Then Amanda asks why Abira brought up her boyfriend Jordan during the argument considering how he had nothing to do with it. Abira says she said that because the twins were asking her where her baby daddy was, and if they ask where her baby daddy is, she's going to bring up theirs, how Andrea's is missing and how Amanda's doesn't want to marry her. The three argue back-and-forth. Abira says she's not going to chase her baby daddy while he's chasing other women, and says she thinks that Andrea chases Chris like a dog chases a cat. Andrea says she doesn't care, and she says that Abira has three baby daddies and she's promiscuous. Abira tells the twins that they need a check on confidence and they roar like lions but they're like kids at heart. Minnie tells Abira "dude shut up". She tells her to get some TicTac's because the last time Abira was talking her eyebrows almost melted away. Abira says she should've melted Minnie's lips together so she could shut up. Minnie says she catches flights, and calls Abira a section 8 b****. Abira says she doesn't get section 8 but Minnie's mother does. Minnie asks Abira if she realizes that she looks like a man and looks like Wanda from the TV show called, "In Living Color". Terra asks Minnie why is she angry with Abira. Minnie says because Abira is fake.
Abira asks Minnie if she's intimidated by her. Minnie says Abira is a man and why would she be intimidated. Abira says maybe Minnie is scared to get her behind whooped. Abira says she wants Minnie to touch her. She gets up and starts to go near Minnie. One of the twins stand up and asks her what's she going to do. Abira says the twins are a couple of little Chihuahuas. Minnie throws some dollars at  Abira and tells her to get a new outfit. Monie picks up the dollars from the floor. The two get closer, and they start fighting, but they get separated. Not to mention, Sam tries to hold Minnie back. While being held back, Minnie throws one of the centerpieces from on set at Abira.
The altercation is continued on, "Season 3 Reunion - Part 2". Minnie and Abira yell insults at each other. Terra tells them down and talk. Minnie throws something in Abira's direction. It accidentally hits Tanya. Abira tells Minnie to pick up her rent money. Everybody takes five and the crew straightens up the stage. Minnie calls Abira a deep voiced- stanky-breath b****. Minnie goes backstage and talk to her mom, Tammie. Tammie tells her not to let Abira bother her and she's nothing but a man. She reminds Minnie that she's too classy for that. Minnie looks as if she's going to cry. Tammie says she's going to get Abira. One of the producers tells Tammie that he doesn't want her running up on Abira. Tammie tells the producer that when she sees Abira she's going to punch her, and she's going to tear the whole studio up and it's going to be "hurricane Tammie", and she's dead serious. Abira leaves the stage and goes back stage. Next, all that can be heard is somebody screaming, and noise. Minnie is heard yelling " Momma! Momma!"
The camera tries to make its way to where the action is. It turns out that Tammie threw some water on somebody. She meant to throw it at Abira but she accidentally threw it at Monie. She tells her mother to stop. Tammy says she's cool. Abira says that she will beat the s*** out of Minnie and Tammie. She says she can't even go to the bathroom, and they are the ghettoest b*****s ever. Tammie is asked to leave and so is Abira. The two are put in a van and driven away from the studio.
Greene makes her first Season 4 appearance on the episode titled, "You're Fired". Juicy wants to sign Abira to her talent agency. Abira meets Juicy's business partner/friend Johnny, and performs one of her songs for him.
She appears in "Skinny Minnie" when she and Sam are invited over to Tanya's house to see newborn Tahirih for the first time.
In "Juicy's Got Talent", Abira is invited by Juicy to perform one of her rap songs at a talent showcase that she and her business partner are throwing. Juicy also tells Abira that the twins will be spectators at the showcase, and asks that she doesn't pop off on the twins in front of her business partner. Abira says if the twins don't come for her, she won't come for them. Later, Juicy invites Abira and the twins out for lunch. The twins had no idea that Abira would be meeting with them. The four basically sit down and work out the differences between Abira and the twins. After having a conversation that wasn't so calm at one point, the twins agree to behave at the talent showcase, and be there to support Juicy. Abira performs her song at the showcase, and doesn't cause any drama.
In the episode titled, "Road Trippin'", Jordan and Amanda invite all of the ladies and their dates on a fishing trip in Tennessee. Juicy suggests that they invite Abira on the trip. Jordan and Amanda agree to let Abira go on the trip. On the day of the trip when everybody is about to get on the RVs, Abira surprises Minnie--who had no idea that Abira was going on the trip. Minnie is not happy about this, but decides to hold her tongue for the sake of Jordan and Amanda. On the RV ride to Tennessee, Minnie decides to talk things out with Abira. Minnie says that at first she thought that things were cool, but then at the showcase Abira jumped in between the altercation with Sam and Caylea. Abira says it wasn't that she was on Caylea's side, she just didn't want her to get jumped because they were three girls coming at her. She was just trying to be neutral in the situation. Minnie says that one minute Abira is cool then another minute she pops off. Abira says that's how she is and long as someone else doesn't pop off she doesn't pop off. Minnie asks Abira if it's all up to her to not pop off. Abira says correct. The next day, after everyone makes it to Tennessee, Abira and Juicy take a walk and chat. Abira brings up how on the bus the day before Minnie was doing a lot of complaining. She asks Juicy if she is complaining because she went on the trip. She says she doesn't want Minnie to feel uncomfortable and she doesn't want to feel uncomfortable herself. Juicy tells Abira that she can't please everybody,  and all that matters is that Abira is pleasing herself. Abira says she would rather address the elephant in the room. In the commentary juicy says that she admires how Abira went to address the issues like an adult but within the group, that causes more problems. Juicy says she wants the ladies to be around each other without drama. She brings up how she and Minnie had a talk on the RV which was a first step towards burying the hatchet. She says she feels like being on the trip she feels like she is in a house of cards, and if she does one wrong thing, things will fall down. Juicy tells Abira not to start anything and to keep her eyes open. She's going to see how things go, and she has to build trust. Juicy says she understands, but Abira needs to know when to pop off. Abira says when people get in her face, the idea of getting along goes out of the door.
Later, everyone goes fishing, and Abira is wearing Minnie's pair of waders. While everyone else (except Tanya and Minnie) is fishing, Minnie is just sitting unhappily. Sam asks Minnie what's wrong with her. Minnie says the last pair of waders are too small. In the commentary, Minnie says she put her order in for waders a long time ago, and Abira is wearing hers. While everyone else is fishing, The ladies get out of the water. She tells Sam that she put her order in early, and the only person who didn't put in their order was Abira. Sam says the waders do look a little big on her. Minnie says she would've loved to go fly fishing, but some b**** took her waders. Then Monie and Abira ask "what b****?". Minnie says she was talking about Abira. Abira says she would never, and checks to see what size the leftover pair of waders are and says that Minnie is a size XXX large.  Minnie disagrees. Juicy says if she can fit the extra large pair, they are available. Minnie says she's good. Juicy says she tried to get Minnie to go out there and fish. Minnie says she wanted to experience it but Abira took her waders. Then Abira says that Minnie is acting like she snatched the waders out of her hand. Abira says that she bossed up, and Minnie can't fit in the suit. She tells Minnie to try on the suit. Minnie says she can fit the suit. Abira dramatically picks up the waders and drops them in front of Minnie to try on. To be continued.
The outcome of this conflict is shown in, "Road Trippin' Part 2". Amanda stands up for Minnie and tells Abira that no one is afraid of her just because she's a hood b**** . Abira says they should tape the waders together and have Minnie try them on. After dramatically throwing the pairs of waders in front of Minnie, Juicy is rolling around laughing in her seat. Juicy separates Abira from everybody and they take a walk. Minnie asks the twins and Monie if they can believe that Abira was talking about her weight. The next day, the ladies and their dates go out to dinner. Chris makes a toast to Jordan and Amanda for putting the trip together for everyone. Abira starts coughing. Amanda says that when Chris made a toast Abira would cough. Abira says she was choking on her drink and asks Amanda if she wants to jump down her throat. Amanda says yes. Juicy asks Abira if she got choked up during Chris's toast. Abira says no, she thinks that her wine went down the wrong way. Minnie thanks Jordan for inviting everyone on the trip, and she says she enjoyed herself. She apologizes for getting out of character and causing drama. Then Abira tells Jordan that she apologizes for getting out of character too. She says that growing up she got bullied, and had people coming at her. That day she felt like she was attacked by more than one person over something that she had no control over. And It's not that she wants to get into a conflict or make someone feel uncomfortable. Abira apologizes to everyone at the table if she made them feel uncomfortable by the way she acted, but at the end of the day if she stands for nothing she will fall for anything. In the commentary Minnie says that they all were bullied for being little, but that doesn't excuse Abira for what she did. Abira thanks Amanda and Jordan for inviting her on the trip. She begins to get a little emotional. She says she went on the trip to fit in. She says that she said the wrong thing and she's trying to fix that, and owning up to what you say is growth. In the commentary, Tanya says that she has known Abira for a long time and she knows that she is a good person and she just showed it by what she just said. Then Minnie gets up and excuses herself from the table early.
The day after, Abira has a conversation with Juicy and Monie about what happened at the dinner the night before. Abira or tells Juicy and Monie that she doesn't understand why after that heartfelt speech of hers, Minnie got up and left the table. Monie says Minnie was probably feeling a certain way because of what happened back at the lake. Abira says that it was obvious that Minnie couldn't fit the pair of waders that she had on, because it takes ten of her to fit in the suit that she had on. Abira says she will try to have a conversation with Minnie. Later on that day while the ladies are shopping, Minnie pulls Abira aside to talk. She apologizes for what she said the day before and for questioning her sexuality (by calling her a man). She said she's been trying to change and use her words carefully. And the reason she lashed out like that is because of the way Abira came with her about her weight. She brings up how a couple of weeks before, she went to urgent care because she thought she had a cold, but found out that she actually had fluid around her heart. She says that's why her feet and face swell, and why she's bloated. Minnie gets emotional. Abira says she can see how strong Minnie is. She says that they don't know each other's stories and that's why they're having that moment to know why they would come at each other. She thinks that they both have things that they're hiding and don't want to be vulnerable. She gets that weight is a sensitive subject but she didn't know what Minnie was going through. Abira says when someone calls her the B-word it ticks her off because coming up she had to fight for respect as a woman and as a little woman. She says if she and Minnie had communicated in the first place, the ball wouldn't have kept rolling. Minnie says she wants to move forward. Abira says she thinks they can move forward, and as little women they need to unite. Abira says they can start fresh. Minnie and Abira shake on it.
Abira goes to a detox spa with Sam, Juicy, and Tanya on the episode, "Another Bad Romance". While there, Juicy asks Abira how she's feeling about being with the other ladies. Abira says that she feels good and, feels like she's on the right path. But she felt like it wasn't the right decision to go on the Tennessee trip with the ladies. Later on in the episode, Abira goes on a trip with the ladies to a vineyard.
In "Girl Power", Abira goes on a craft date with Juicy and Tanya. Juicy invites her to go to a breast cancer awareness charity event that is hosted by rapper Diamond, where Juicy will be handing out awards to the surviviors. Abira hopes to do some networking at the event. Later Abira goes with Juicy to her mammogram. While waiting, one of the nurses at the doctors office shows Abira how to give herself a breast exam. Sam has a slumber party, and Abira, and the rest of the ladies (except for Andrea) are in attendance. At the charity event, Abira meets Diamond, whom she is a big fan of. She tells Diamond and the co-hosts that she wants to get on stage and perform at the event that night also. Juicy tells Abira that the event wasn't the time or place. Abira gets an opportunity to get on stage, and rap. After that Juicy pulls Abira aside to talk. Juicy tells Abira that she was not scheduled to perform at that venue that night. Abira says since she's new to Atlanta and trying to get her music career off of the ground, she wanted to network with Diamond and have her one shot to impress her. Juicy says she knows Diamond on a personal level, and as Abira's manager, she would've given her an opportunity to meet her again. Abira accuses Juicy of taking her rap career lightly.
During Season 5 of the show, she has a recurring role where she works for the opportunity to expand her rap career and be an act for The Street Execs music artist tour alongside The Cheeks and The Tiny Twinz. Parts of her relationship with Bumpman are shown also.
Greene became a main cast member during Season 6 of Little Women: Atlanta.
Biography
Abira Sade Greene was born on March 6, 1986. She is from Tampa, Florida. The type of dwarfism that Abira has is Achondroplasia. She was an exotic dancer under the name "Fire", and danced for 10 years. Greene has appeared in videos on WorldStarHipHop.com, in rapper Plies' music video for his song "I Am The Club", and even performed at a party for rapper Lil Wayne. She is friends with Little Women: Atlanta cast member Tanya Scott. The two used to dance together.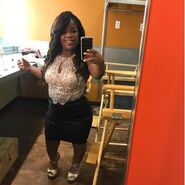 Abira was in a relationship with a man named Anthony Hall. Anthony is the father of Abira's youngest two children--Phebe and J-Henri. In Summer 2018, she dated LWATL Guest Star/ Rapper Bumpman. Bumpman was featured on Abira's song "Goals".
She is the mother of four children (two sons named Jazsper and J-Henri, and two daughters named Terbira and Phebe). Her youngest daughter Phebe is the only little person out of all of her children.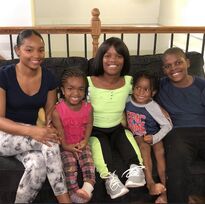 Greene has also recorded a few rap songs, and is an aspiring rapper under the name "Lil Vicious". She moved to Atlanta to focus on her music career. On September 20, 2018, she released a mixtape titled, "Are You As Tall As Me?".
She has a YouTube channel under the name of "Abira aka Lil Vee".
In May 2020, Abira launched a brand by the name of "Are You As Tall As Me?", which focuses on equality and civil rights of people with disabilities and insecurities. The merchandise website for the brand launched in April 2022.
In mid 2020, she started a hashtag (#NormalizeDwarfism) on social media. She has made a couple of YouTube videos where she vocalizes how individuals with dwarfism should be normalized in society.
Greene released a single titled "Don't Give Up", on February 5, 2021.
On April 3, 2021, Greene boxed against former Little Women: Atlanta cast member, Bri Barlup in a celebrity boxing tournament. Abira won the tournament after three rounds. The tournament can be watched on celebritychampionshipboxing.com .
Abira was featured in the music video for 21 Savage and Young Nudy's song, "Child's Play". She was the masked shooter in the front seat of the car wearing the pink shirt.
Greene was featured in the 6-part limited HBO series titled, "We Own This City".
Trivia
Besides being a dancer and rapper, Abira was a little person boxer at one point.
She made her first television appearance in 2007 on BET's "Spring Bling" on the "21 Questions" segment where she was asked questions by rapper Lil Duval.
Abira appeared in the music video for the song "City Boy" by Lil Duval, TOM. G, and Kamillion. She also danced on stage at the live performance of the song at the 2019 BET Hip Hop Awards.
Greene has the most children out of any Little Women: Atlanta cast member (4), or cast member from any Little Women show altogether.
Abira was only 17 years old when she gave birth to her first child, Terbira.
Sadly, Greene suffered from depression from 7th to 10th grade due to the bullying that she experienced at school.